My son was accepted to Juilliard!
This is my son on registration day at Juilliard. We are so excited.
But not surprised.
That's what happens when you work this hard. You are not surprised.
I am told it's rare for a kid to get into Juilliard on the first try. Kids audition for three, four, five years before they get in. And that's what we would have done. So we sort of, in the back of our heads, thought this is just what we are doing. We are excited that he only had to audition one time to get in.
The commitment did not come easily. And each step of the way I'd ask for reassurance. When I was trying to decide if we'd drive 8 hours to take cello lessons with Gilda Barston, I asked the person who first told me my son had talent: Jean Dexter. I said, "Aren't there other teachers as good as Gilda who are closer?" And she said, "No."
When Gilda told us we'd have to drive twice a week, I said to her, "I feel crazy doing this for a seven-year-old boy."
She told me, "Well. If you don't want to drive here, you could just move here."
When he was eleven, and I told people we were moving from Wisconsin to Pennsylvania to take lessons with Amy Barston, nearly everyone in the cello community said, "That's a great idea."
Parents who are cello parents say "we." Parents who are not cello parents say, "Don't you mean your child, not you?"
But I mean we. The sacrifice a parent makes to get a kid to this spot is huge. Which is not to minimize a kid's sacrifice. Mine has given up a normal childhood. He started driving 8 hours a week to the Music Institute of Chicago when he was six. By age seven it was 16 hours a week.  The year he was nine we spent more than 60 days in a hotel. The year he was ten he had status in the frequent flier program with American Airlines.
He traveled so much for cello that when he joined sports teams, he couldn't play the games because he had cello on Saturdays. He had bags under his eyes every Wednesday because his cello class on Tuesday was for high schoolers so it ended at 10pm. He went to sleep with headaches. He skipped meals because of sores in his mouth.
I was the family breadwinner and the family cello parent. I took conference calls between cello classes, and I did webinars from the piano teacher's studio. I ended up in the hospital from stress, and I hired a driver. And if you think cello lessons are expensive, they are nothing compared to a full-time driver.
People are not shocked by their own achievements. People are shocked by luck. But luck isn't what changes us. Being brave enough to give up a lot to get what we want is what changes us.
Here is the story of the gradual acceptance of an overwhelming goal: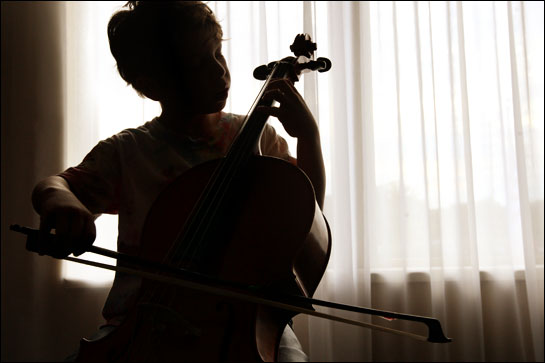 July 2011 – I took my son to cello camp when he was six years old. Six hours of cello classes a day. I told my family we'd definitely come home early. But we didn't.
July 2011 – I tell the orchestra teacher, Carol Ourada, that my son is too young and we are not going to attend her class. She says, "Just stay! He'll learn fast!" I still have no idea how he knew what to play.
August 2011  – As promised, cello camp shows me a new perspective: My son was the only kid who watched TV during the breaks. All the other kids practiced.
August 2012 – Wherever we go we take the cello. And look for someone to practice with him. The teacher screams at me: "YOU have to learn to practice with him!"
November 2011 – The deeper we get into cello the more rigid the rules. No trying out new songs until the teacher says ok. No bad bow holds. No jumping around in the lesson.

June 2012 – This level of commitment would not be possible without a group of other parents and children doing the same thing. I start to see end-of-year recitals as a celebration of community.
October 2012 – I read that specific details a child includes in a drawing reveals how the child sees the world. My son draws a self-portrait that includes his own ear drums.
November 2012 – I have no idea what I'm doing when we practice. I discover Elizabeth Means, who practices with him each day during our trip to New York City.
December 2012 – I start to notice patterns among kids who gave up their childhood to be great at something. Families relocate. Parents divorce. Coffers are empty, or bankrupt.
April 2013 – I start working during our drive so I get in enough hours to make enough money. I reorganized all my work so the majority of it is can be done on the phone.
May 2013 – As he's getting ready to play at a black-tie event, he seems grown up and focused in a way that shocks me. I vow to do all I can so he can be a performer.
May 2013 – In Chicago for a recital. I buy a scooter so he can play around like a normal kid. On way home I faint from stress. He rides along in the ambulance.
August 2013 – I read it's important to downplay talent. I say, "You're a hard worker!" and "I love you because you're you, not because of cello." He says, "That's not true!"
November 2013  – My son sees kids making friends at school. He wants to go to school, but he realizes that actually, he has no time for school.
February 2014  – I worry I am not spending enough time with my older son. I keep telling myself music is about more than playing music so it's ok to invest so much time.
February 2014 – We start seeing a child psychologist to help with the pressures of cello. It's a tossup as to who the psychologist is helping more: me or my son.
April 2014 – I start to admit that the driving time is hurting everyone in the family. Some weeks we spend more time in the car than practicing.
August 2014 – My son starts piano to help with cello. I tell him we are buying a cheap piano and I am not practicing with him. Months later I retract both statements.
June 2015 – I scale back the goals for my company so I can focus more on cello. I am shocked that the board members encourage me.
April 2016 – Practicing is constantly difficult. When he was younger and bows were cheaper, I broke two. Now I hurl sheet music at the wall. No cello mom is surprised.
May 2016 – The cello teacher has cancer. Our lessons focus on sadness and death.
July 2016 – I worry about overcommitting at too young an age. We spend a day developing plan B.
August 2016  – We travel across the country meeting teachers to figure out what to do next.
December 2016 – We move to Swarthmore to study cello with Amy Barston. Amy gives him four lessons a week and he practices three hours a day.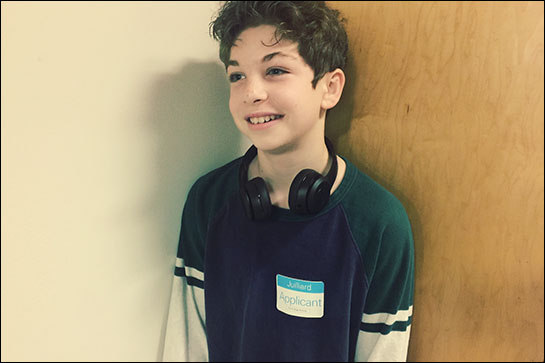 May 2017 – He applies for Juilliard. At eleven years old, he is the youngest cellist accepted.
https://blog.penelopetrunk.com/cdn/home/pt-logo.png
0
0
Penelope
https://blog.penelopetrunk.com/cdn/home/pt-logo.png
Penelope
2017-06-25 23:52:12
2019-10-18 21:47:52
My son was accepted to Juilliard!