Emails my mom sent from her NYC co-op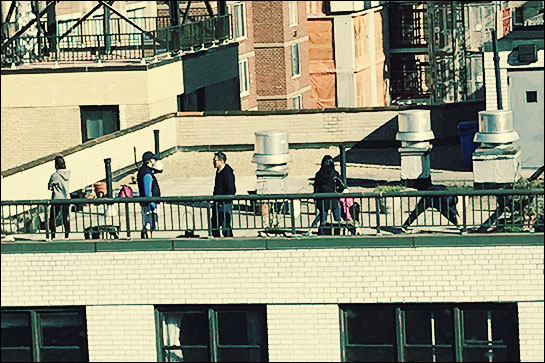 I stopped talking with my mom a few years ago. She might not have noticed at first. My brothers have all cut her off at times as well. But my mom is pragmatic. She knows she and my dad were terrible parents. She apologizes and by all accounts, she is a much more enjoyable person to be around when she is not raising kids.
In January I decided I'm too old to not talk to my mom. I am 52. She had me when she was 21. I decided to trust that she always means well when she talks to me. I know she tries hard even when she triggers me.
I agreed to meet her. She took the four-hour train from NYC to Boston to meet me. Waiting for her at the train station, I worried what if we didn't have a fight and it still didn't feel good to see her. Then what?
We had lunch. She listened and I listened. And I felt happy to see her.
Then we made plans for her to come back again. She took the train again. I forgot to meet her. I told her I forget so much in my life and it's not just her. I forget almost everything. She told me she traveled the whole day and she is so disappointed I wasn't there. It was one of the most real conversations we've ever had. And for the first time in my life, we had a conflict and I wasn't scared of her.
Then coronavirus. Suddenly the internet was flooded with photos of inside life and my mom sent me pictures of NYC locked down.
March 18 –– This is a picture from my window. People social distancing in rooftop gardens.

I was surprised to see that instead of fearing her, I feared for her. I wanted her to be safe. I didn't want her to be lonely. I dealt with these feelings by calling her, which felt awkward at first. I have never called her to make sure she's okay.
She dealt with the fear of her kids dying by sending group emails to me and my brothers about social distancing. The group emails are not new. I always figured she sends them to all of us because she never knows who is or isn't talking to her at any given time.
Then she started sending emails that were just for me:
March 24 –– Another complaint about Trump. He refers to (male) as Dr. Fauci and (female Dr. Brix) as Deborah.
By the end of March, I was calling more often with the latest news and we were quoting Governor Cuomo back to each other. We watched him and his brother, a CNN commentator, argue over who is their mom's favorite.
March 27 –– A love song of sorts, to Cuomo. Help, I think I'm in love with Andrew Cuomo.
She emailed me each morning. I called her each evening.
She did jigsaw puzzles, but not after sundown because her eyes aren't good enough. So she did crossword puzzles at night. She said she has a stack of about forty New York Times Sunday magazines where she hadn't done the puzzle.
I worried for her. I knew she'd be done with those in two weeks.
March 28 –– The word quarantine has Italian roots: in an effort to protect coastal cities from the Black Death ravaging 14th-Century Europe, ships arriving in Venice from infected ports were required to sit at anchor for 40 days (quaranta giorni) before landing, a practice that eventually became known as quarantine – derived from quarantino, the Italian word for a 40-day period. So now you know! love, mom
I walked through nearby college campuses talking with my mom. I told her how weird it is to see no students.
She told me she hadn't been outside in five days.
I told her I really think you need to go outside for a short time each day. For your mental health.

March 30 –– I'm about to head out for 20 minutes of dodging anyone else on the streets of NYC and I stopped to put on sunscreen. How's that for hope for the future!
I told Mom I was getting nervous that colleges will not open and admissions will change. I made my older son write a bunch of different college application essays in case he needs to turn on a dime during the application process.
She said she worried about what if she never travels again. But she heard a psychologist on a Zoomcast say we should change what if to at least. My mom started saying at least she lives in a city she loves.
April 5 –– A sign outside Lincoln Center: "There will be a short intermission. We will return soon."
We had a Zoom seder. We had never been all together for a seder. We talked until a minute after midnight so we could sing happy birthday to my mom. I don't think we've ever all sang happy birthday to her.
April 10 –– New Jersey's unemployment system is stuck and needs COBOL programmers. At this point, I might be the only COBOL programmer still alive. So I sent an email and said if they let me work from home I'd be happy to do the programming for free.
We didn't talk about how scary it was that Chris Cuomo was knocked out from COVID-19. But I sent Mom a video where he is well enough to fight with his brother about a photo. I have her watch the video while I'm on speaker so I can listen to her laugh.
April 26 –– Corona additional sad state of affairs. You know how Google anticipates the site you want based on the first letter or two that you input on the search bar? For at least 10 years the letter "n" has brought up the NYTimes. This morning my letter "n" brought up Netflix.
She told me she watched The Squid and the Whale. Three times.
I wasn't surprised. She's read The Little Drummer Girl twelve times.
She told me The Squid and the Whale is about terrible parenting. The parents are still alive, she said.
I didn't really know what that meant. I've been writing about her terrible parenting my whole life.
She had so much empathy for the kids in the movie.
I got a lump in my throat.
April 27 –– This is a really good article, I think, about the extra burden women bear in dual-income relationships, particularly during the pandemic: A Newsletter about How Hard It Was To Write This Newsletter
I had a fight with my son about how disorganized he was with his essays. I was so annoyed that I forgot to call my mom. And I missed her. I missed talking to her.
May 1 –– Look what the New York Public Library did! Scroll down a bit to listen. I am a happy camper Missing Sounds of New York City.
A few days later I got an email from my son, who uses email only to deal with college applications. He sent me his answer to the question: Describe an experience that caused you to change your perspective and/or opinion. (200 words)
My son wrote: The stories about my mother's childhood abuse horrify me. I thought it would be better for her to cut her parents out of her life. I didn't think happiness could ever come from those relationships. But she's always said that no one benefits from holding on to anger. During the COVID-19 outbreak, my mom and grandma talked on the phone every day. When I listened to them talk, I could tell from the tone of their voices that they were happy and there was no animosity. I was so surprised that they were able to enjoy talking after decades of tension. It made me realize that when we refuse to forgive, we close ourselves off to valuable relationships.
https://blog.penelopetrunk.com/cdn/nyc-style-social-distancing-roof-blogsize.jpg
0
1920
Penelope
https://blog.penelopetrunk.com/cdn/home/pt-logo.png
Penelope
2020-05-09 02:33:53
2020-05-09 11:26:08
Emails my mom sent from her NYC co-op