That Gen-X time latchkey kids were encouraged to collect rodents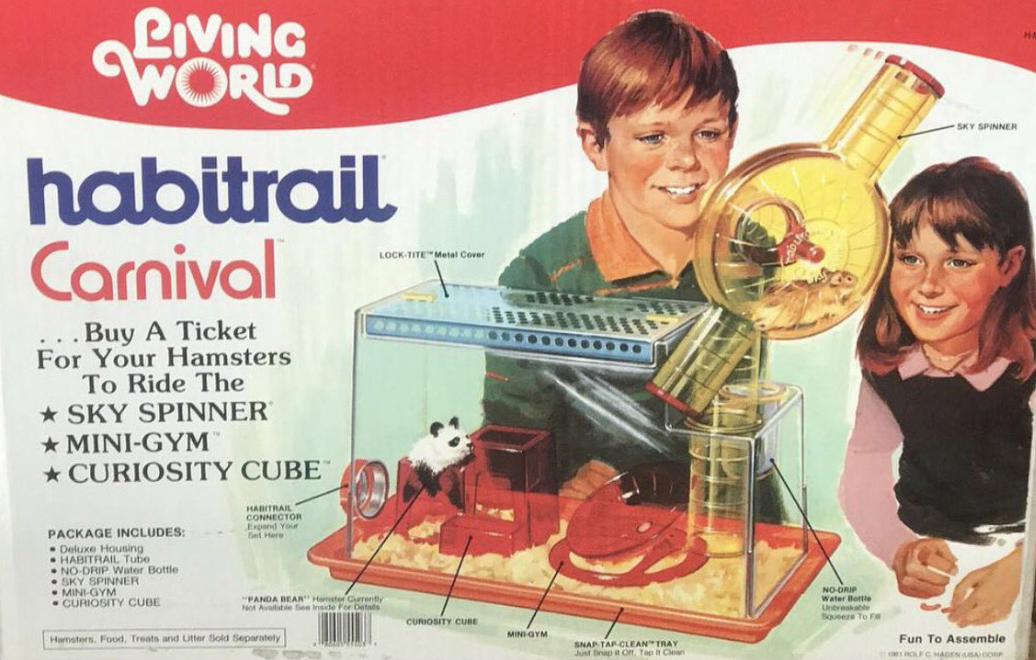 In the 70s my family's knowledge of plastic exceeded our knowledge of gerbils, so we bought two girl gerbils  and a plastic Habitrail cage because it didn't look like a cage at all. The two girls made babies, and started eating them. We thought that meant the cage was too small, so we bought more Habitrail stuff.
We had tunnels connecting more habitual not-cages, and then the not-girls had more babies and the babies that didn't get eaten grew up and then everyone fought each other so we bought more plastic contraptions for everyone. We even made the gerbils run around my dollhouse which had been, until now, the most palatial of all things in my bedroom.
The cat was very interested. And by the time there were 20 gerbils, the cat had a pretty much full-time job searching for an opening in the Habitrail. To give you an idea of timespan here, gerbils go into heat every four days. So it was just long enough for my grandma to hear that the dollhouse was not getting enough attention and she sent over new  living room furniture from Bonwit Teller.
It was the 70s. So by the time the package arrived, the cat figured out how to open the top of the biggest section of the Habitrail. It was a far jump for the gerbils so when I came home from school and the top was dislodged, I knew it was only one missing. So I opened the front door of our house, and the cat would leave, gerbil in mouth.
We were almost in homeostasis: The cat got a gerbil a day. A gerbil got pregnant every four days. My parents bought new Habitrail pieces when the gerbils ate through the plastic, which was weekly. And my grandma sent me new furnishings for the dollhouse every time she went to Bonwit Teller which was also weekly.
Here's the other thing about my family though.
My mom was a VP in the Fortune 500 and couldn't hire a babysitter. My dad went to Harvard Law School. By day a high-powered Chicago trial attorney, by night, a gerbil warden.
Genius is an off-kilter brain and so is gerbils. My drive to understand autism is to make sense of how gerbils and genius exist in the same family. Learning about autism means learning to live with all parts of the brain even if it's not what people are expecting. Autism is seeing how the genius and the crazy go hand in hand and can even thrive that way under the best conditions.
I'm starting another autism course Dec. 3. If you think you might be autistic, or you might have someone in your family who is autistic, or if you are just curious about why I won't shut up about this topic, then you should sign up for the course.
We'll meet online Dec 3, 4, 5, 6 at 8 pm. Eastern. There will be videos if you can't make those times.
You can find out more about the course here.
http://blog.penelopetrunk.com/cdn/habitrail.1970s.blogsize.png
660
1036
Penelope
https://blog.penelopetrunk.com/cdn/home/pt-logo.png
Penelope
2023-11-20 00:57:54
2023-11-30 15:20:41
That Gen-X time latchkey kids were encouraged to collect rodents