This guy said I charge too much for coaching, then he showed up to my door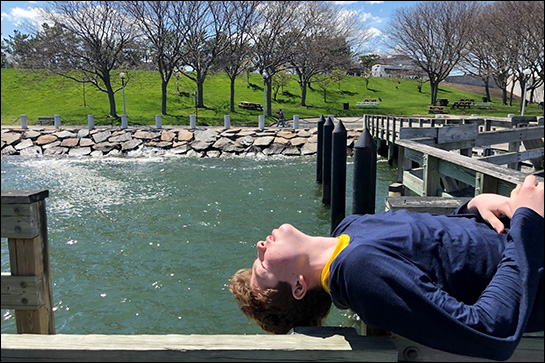 There are some people I've been coaching since they were in high school. Usually their parents pay for the first few sessions and then I get overinvested in the kid.
So I have to stop and ask myself: "Does this family have $30,000 for me to coach the kid for a year?"
Sometimes the answer is yes, and then my rent is on time for so many months in a row that the landlord stops by to see if I got married.
Most parents don't have that much money and I end up coaching the kid for free. I used to think I could get extra value by having the kid come live with us and then our lives would be so interesting. The first person who did that was Melissa. She was actually the only time it worked, but I didn't see that until one of my investments involved a girl who let Z dive in the shallow end and he chipped a tooth.
I didn't notice the tooth until later when we were taking the picture up top. I said, "Oh my God, you could have died."
He said, "Meh. Think of it as a reminder to not have people live with us."
Kids don't want interesting lives. They want parents who focus on them instead of the interestingness around them.
When I met Minami her mom had already died, thank goodness, because I definitely would not have been able to restrain myself from inviting her to live with us. But she was still young enough for me to get overinvested for free.
When Z noticed me vying to move in a new person, he said, "Mom you can't get someone to save you by you saving other people. The world doesn't work that way. Just save yourself."
This is what it's like living with kids who live with a career coach. He's right. We all have to save ourselves.
That's very sad for people who grew up without emotional security from their parents. Caring, individualized attention routinely directed at a child makes the child feel secure and the child grows up to feel confident doing the same for themselves.
Not that I would know. I read it in a book.
Minami has thanked me for giving her attention. When she does that it reminds me how important it is to give my kids the attention they ask for instead of the attention I want to give.
You know how you can only hate someone you know really well? I got to know Minami's boyfriend really well in that way where I hated him.
They broke up. Then John, the boyfriend, sent a text to me that said, "I know you hate me but could you give me some advice anyway?"
I told him I only hated him because I thought he'd ruin Minami's life. So now that he was out of Minami's life I'd be happy to help him. I was curious.
He said he just landed in Boston. I told my kids don't worry, I'll meet him for coffee, he won't come up to the apartment. When he knocked on the door, my kids scattered to their bedrooms.
I said, "You must be really hungry do you want to eat?"
He said, "Yes, are you making something? That would be great."
If you want to know why autistic people only hang out with autistic people, it's because of moments like this: A normal person would reply to him, let's go out. But I said, "How about oatmeal?"
He played piano beautifully while I boiled water. And he played Z's bass guitar while I was overzealous with the brown sugar. Then he talked and talked.
He talked so much about how he's doing so much self-growth that I ate the equivalent of ten spoonfuls of brown sugar before I said, "You are not changing. You are just making the same decision over and over again."
Hours of talking. I showed him how each big decision he made was actually his best decision, and since he could not have made a better decision there is no reason to change anything.
He told me about how I am not really seeing his situation. After another hour, he said, "You see everyone's archetype and you know what they will do and why, but I want to be an exception to my archetype."
He's right. I do see archetypes. But just like it doesn't help him to think he's always an exception, it doesn't help me to think I'm never an exception.
I see myself as the same archetype as Minami's mom: single mother who takes her trauma and overwhelmed feelings out on her kids. Minami tells me I'm not like her mom, and then I see myself as the archetype of the autistic mom who lets other people's reassurances make her believe she's doing okay for her kids.
John made me realize that even though I help other people by showing them their archetype, I don't help myself by doing that for me. Which, actually, is like the archetype of the shoemaker who has no shoes. Or the plumber with a leaky faucet. But if I were coaching the shoemaker or the plumber, and the problem was they couldn't see past their archetype, I'd get them to see past it. And now I see that I need to do that for myself.
I feel a lightness, like there are more possibilities for me than I have ever seen. This is what it feels like to find out something big about ourselves — hard to hear at first, and then energizing. So I'm discounting my coaching sessions from $350 to $150. But only if you sign up in the next three days. Because I have to believe I'm not the archetype of someone who works really hard on their blog and never makes any money from it.
https://blog.penelopetrunk.com/cdn/z-lake-sunshine-1-blogsize.jpg
363
545
Penelope
https://blog.penelopetrunk.com/cdn/home/pt-logo.png
Penelope
2023-08-19 16:51:20
2023-08-20 10:00:26
This guy said I charge too much for coaching, then he showed up to my door